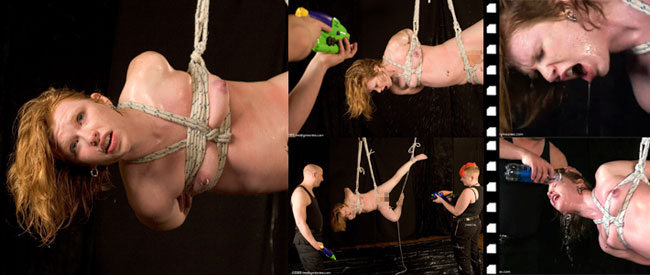 Buy this scene here!
Lauren and I had a fun-and-a-bit-silly-but-nonetheless-hot idea for something, and we made it happen after we were done shooting 'Madison Scrubbed Down'. We wanted to hang a pretty girl up in the air and soak the heck out of her with squirtguns. Our friend Max (of bondagelessons.com) was happy to swing by and do a quick guest suspension for us, and I brought a small arsenal of waterguns. The end result was a few minutes of video, just under a hundred stills, two entertained meanies, and one very dripping girl.
This worked well in a few different ways. Madison loves rope, so she was happy just getting up in the air. People respond very viscerally to water (especially cold water, which some of this was) running over their face when they can't do anything about it. Something about the process of choosing targets on a helpless pretty girl is really satisfying. Plus, Madison looked really good soaking wet.
You may notice one of the squirtguns appears in the stills but not the video. What happened is I failed to warn Maxx and Red (who were running the video cameras) that I was about to bring out my big guns. I made sure that Kurt had a good shot for the stills, and assumed that they'd notice the setup, which they didn't. When I used it there was a sizable amount of splashback (including toward our expensive lights), and they were too busy diving out of the way to get good footage. That one's really an outdoor toy, but hopefully someday we'll be able to use it again.
For more of us shooting pretty girls with things, see: Dreina on the Rack, Lucy's Punishment, Introducing Nikki, Sharing Dreina, and Not Wrestling. There's a sample still after the cut.