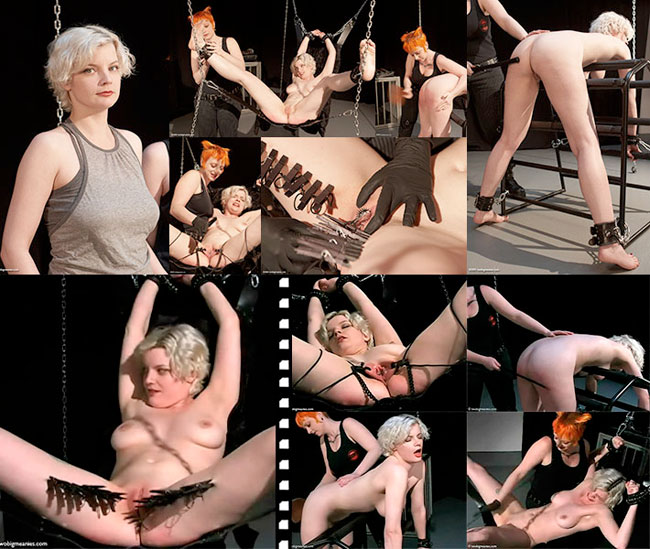 (Sorry, not available to purchase at the moment - this will eventually be on Lovingly Handmade Pornography.)
Hi, everyone! Wow, long time no post. I moved across the country for school, and things got hectic, and I fell off on this a bit lot. Russell's still running things back in Seattle, though, and I'll be poking in periodically to update (more frequently than the past year would suggest, sweartagod).
I'm really excited to be getting this shoot to you finally, however. It's definitely one of my favorites, which isn't surprising, since Rose is one of my favorite people to play with. She's adorable and responsive and she *really* likes genital play, as the upcoming stills and video will attest...
We started things off with her in some pretty minimal/functional bondage, tightly bent over to receive a caning and a paddling on her glorious ass. She had a definitive preference for thin, stingy canes and the harsh wooden paddle, which should tell you something about the intensity level she likes to play at. Mind you, we were still in the warm-up stage!
I ramped up the speed and sensation, and she stayed right with me--and made some ridiculously cute faces and whimpers throughout! I turned her bottom just as red and welted as I thought I safely could, and she was still ready for more. I'd have been happy to go on like that all evening, but I wanted to spread the impact out some, and I still had other plans.
Spanking and caning are among my biggest kinks, but there's one big drawback to them, as far as I'm concerned. You don't get to see the face and look into the eyes of the person that you're hurting! To remedy this, Rose climbed into a sling, where I cuffed her into a spreadeagled position. She was beautifully exposed and open that way, and it left her delicate bits fully vulnerable to the warmup slaps that I started to rain down on her pussy lips. There's some really hot, fun footage of her doing her best to twist away, laughing and bratting the whole time. My response was to just transfer my aim to her sore, red ass whenever she squirmed, which seemed to work nicely.
I took my time spanking her bare cunt with my hand--it's too nice a job to rush. By the time we upped the stakes to bring a latex flogger into play, she was already pinkening up nicely, pussy lips swollen and hot to the touch. The flogger we used is my favorite for this sort of thing: lightweight, stingy, easy to throw precisely and easy to clean afterwards. I whipped her with it for a nice, long time, until eventually we hit the same point that we had with her ass--she was processing well and having a good time, but her skin was starting to mark up more than I wanted. I decided to give the impact a break and move onto something else for a bit.
We experimented with a couple sets of clamps before I found exactly what I was looking for. I tightened them down on her labia and used black parachute cord to tie them off to her thighs, spreading her open even wider for the large chunk of ice that I had waiting to cool her off. Cold, wet skin makes for intensified sensations, and so her reactions to gentle teasing with the tip of my knife and a few more judicious slaps were very gratifying. In fact, she writhed so much that she eventually pulled one of the clamps off herself! Clearly, it was time for something with a little more grip.
I put a line of clothespin zippers up each side of her inner thighs. (The original plan was to extend them all the way up, but the grip on these was a bit too intense for that.) I left them on for her to appreciate while I used a nerve wheel veeeeery carefully on her inner labia and clit hood. That was fun, and so was slapping her pretty cunt some more--regular readers will note that that's a kink Russell and I very much share, and happily, so does Rose.
Eventually, I started to feel like the clothespin zippers were a bit too much in my way, especially with the twisting and tossing that Rose was doing--but hey, at least they come off fast. She didn't seem to appreciate that fact as much as I did; I wonder why...
It was getting to be time to wind up, but we were both still feeling energetic. I hadn't gotten to play as much with Rose's delightfully bratty side as I wanted, so I went to work to bring it out. I succeeded beautifully. *g* At some point, she said "Ow, my foot!", and I, being a safe and concerned top, uncuffed the offending limb. As soon as I heard her giggle, I knew that I had been had.
I suppose that I shouldn't complain too much--I still had free range of all my extremities; all she had was a foot. She managed to put it to good use, though! What followed was a full scale wrestling match, or at least as much of one as could be had given her various points of restriction. :)
It was quite the fantastic end to the scene, and left us both panting and wiped out and smiling. I can't quite say that it was the most fun I've ever had with a sling, but it was damn close. Make sure not to miss the pictures of her biting me! I promptly bit her back, which meant that we were both sporting matching bruised toothy marks several days later.
So that's what we have for you this time around. I hope you enjoy viewing it a fraction as much as I enjoyed making it!