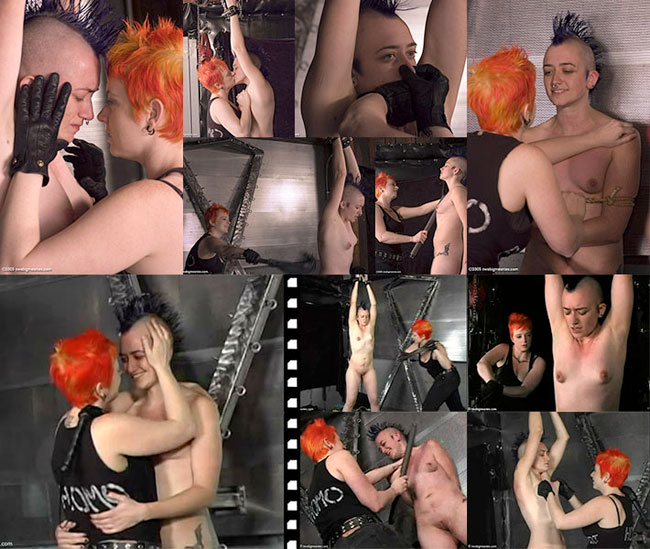 (Sorry, not available to purchase at the moment - this will eventually be on Lovingly Handmade Pornography.)
This shoot was tough to do and tough to capture on camera for a number of reasons. Our main photographer couldn't make it, so we had someone else step in at pretty short notice (thanks, Jeanette!). For most of the first half of the shoot, the next-door tenants were playing Really Bad Dance Music at club-level volumes - distracting, to say the least! (Hey, you try being a big, bad top with disco deedleing loudly in the background. :P ) To add to the chaos, we lost a whole card of stills from near the beginning of the shoot due to technical difficulties. And those weren't the only ways things didn't go as planned...
Maxx is my primary partner, and we play in a very connected, high-chemistry way. Ordinarily, she's a massive painslut, wearing out my arms before she's anywhere close to done. This scene began as a fairly straightforward impact play set, but quickly became something more cathartic. Due to a number of factors, she was having a much tougher time than usual processing intense sensation, which turned the tears on much earlier than either of us anticipated. We played through it because we were both still enjoying ourselves deeply - as the smiles during and after the tears will attest - but it remains a good example of how scenes have a way of taking on a shape of their own regardless of either player's intent.
We began with some garden-variety roughhousing, which soon evolved into a lot of me hitting Maxx with the Mean Thuddy Stick-thing of Doom. The original idea was for me to push her past the pre-negotiated bratting stage to a point where she was willing to beg me to put a pronged training collar on her. Because of the direction the scene went, we never reached that goal - but it gave me something to play with for next time!
She had been making smartassed comments about the "giant zip-ties" that Russell and I are so fond of. I had planned to cuff her hands behind her back with them, but decided to use them as an impact toy first. As you might imagine, they pack a MEAN sting. Afterwards, I used them for their intended purpose while flogging her until she decided that they weren't quite as funny anymore. It was a hot, fun bit - and due to the aforementioned camera difficulties, we don't have any stills from it. You should be able to see it on the video, though!
I experimented with a couple lazy-top forms of bondage (a scratchy hemp lasso and then suspension cuffs clipped to an overhead chain and pulley set) while I alternated between thuddy impact (which Maxx loves) and stingy impact (which she violently hates).
One of my favorite toys was particularly tough for her--a heavy flogger made from "vegan leather" (rubber, for all intents and purposes), with narrow tails that split again halfway down the fall. Viciously stingy, very scratchy, and beautiful for raising marks! A short, intense flogging with that brought her to tears for the second time in the shoot.
I decided to finish her off with one of her favorites, a whip that I actually bought specifically for her. It's made of heavy buffalo hide, extremely thick and almost luxurious. It packs one hell of a WHOMP - it's the thuddiest toy that I own.
The flogging went on for much longer than is obvious from the stills, and by the end of it, she was feeling pretty done in. We took a break, to give her arms a rest (being bound up in that position is surprisingly exhausting) and decided that it was a good time to call it done. We were both floppy and endorphin high and ready to curl up together. Even though nothing happened as planned, it was still a wonderfully fun shoot for us!
(107 stills, 36:33 of video, plus outtakes (640x480 QuickTime @900kbps), 259MB total)