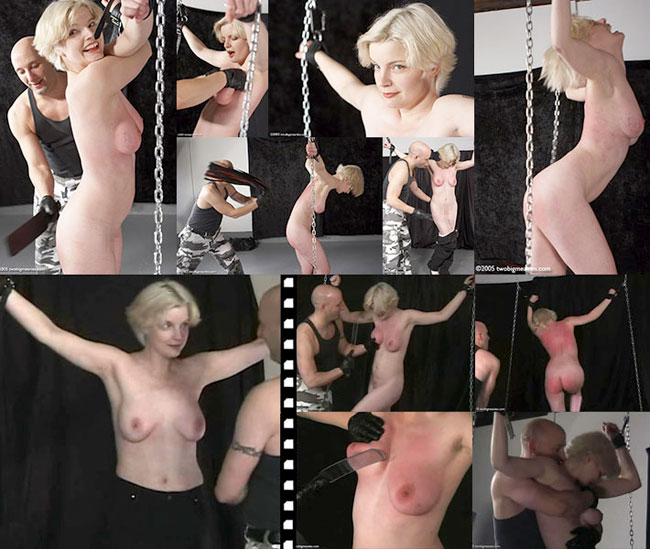 Buy shorts from this here, here, here, and here.
We did this shoot a few days pre-christmas, and the holiday spirit of stress was in the air. So, Rose and I opted for a very straightforward scene: chain her up, slap/spank/paddle her breasts, slap/spank/paddle her ass, then flog the heck out of her back until she got off. No complicated theme, minimal planning, just a simple intense scene.
The breast play was particularly good here. Rose has really nice tits and the bondage position was one that displayed and made them vulnerable, plus left her just mobile enough for good squirming and struggling. I've got a particular kink for slapping breasts around, and we spent plenty of time doing exactly that. There was also some good hard paddling of her ass, but the tit torture in this scene continues to be some of my very favorite.
Rose was also clever and kept finding ways to unhook the wrist cuffs and grab at toys I was using on her- that made for a nice playful scene with lots of interaction that wasn't just physical. We had a fun time and I think both came out of it much more relaxed and happy with life than we'd gone in. You can watch the glee when she gets a bamboo skewer away from me and breaks it into little pieces...
Once her ass and tits were bright (bright) red, we moved to the second part of the scene, a hard flogging. The focus of that was all about gratifying her, honestly, and I was happy to. The fundamental thing about flogging once you get past all the technical stuff is finding the right rhythm. There's the overall scene shape which you can view as an up and down rhythm of intensity, and the more specific timing and intensity of strokes to get someone where you're both trying to go. I spent some time exploring to find the right one with her, and she struggled with it, started crying pretty early on. We worked through the tears to cathartic release and orgasm for her, then some gentle aftercare and a good interview about her experience.