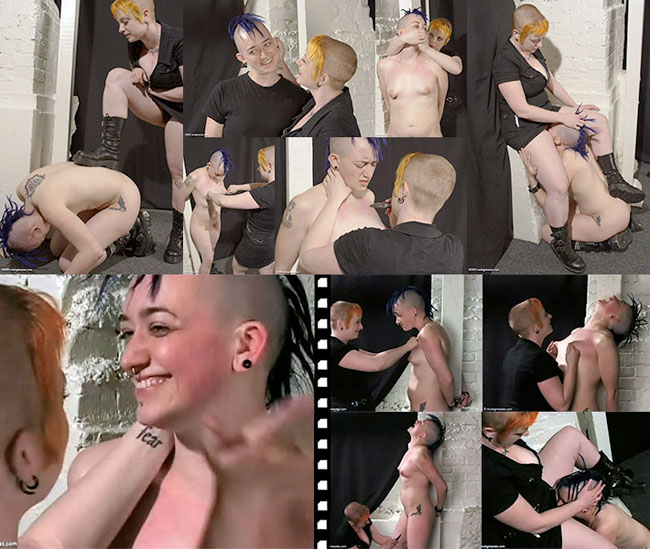 (Sorry, not available to purchase at the moment - this will eventually be on Lovingly Handmade Pornography.)
Shooting with Maxx is always a joy. She's my primary partner off-camera, so we know each others bodies and kinks very well. That usually translates as a whole bunch of chemistry on camera, and this shoot was no exception. We did a lot of edgy play, but somehow what comes across is more sweet than anything, I think.
We thought that it would be fun to do a scene entirely without toys. There's an intimacy to playing with just your bare hands that no implement can match. I admit that i did cheat, a little, but I justified it by saying that knives are tools, not toys. That's my story, and I'm sticking to it...
I remember that she was in an extremely bratty mood that day. We're both switches, which can make for amusing energy struggle at times. Given the opportunity, 9 times out of 10, Maxx will try to flip me. Sometimes I let her, and sometimes I don't, but I wasn't having it this time! *g*
I got her hands cuffed behind her (cuffs are accessories, not toys, right?) and started doing very mean things to her nipples right away. I wanted that takedown energy, hard and fast, to drop her. She didn't go down easy, and watching her struggle with sensation and stubbornness and her own desire is a big part of what's hot about this shoot for me. I wanted to pit her against her own obstinacy--to do things that were hard for her until she asked me to stop, or until she complied in some other way.
We did a lot of impact play, closed fist strikes on her upper arms and chest, and some deep hard muscle grabs. That wasn't too tough for her, but the open-handed slaps on her ass and thighs were. Maxx HATES stingy sensations, but the fact that she was already high as a kite on endorphins helped her process them, and gave us both a nice feeling of "pushing". (Never believe that bare hands can't inflict as much pain as most toys. The marks of my palm were still visible on her inner thighs a week later!)
I also took advantage of her position to do some breath and bloodflow restriction play, which is something that turns us both on a lot. Most people lump these types of play together, but the sensation they provoke is very different. Blood flow restriction - choking - evokes a very languid sort of feeling for most folks, whereas breathplay most often creates a panic reaction. Both are very, very hot--and neither should be attempted without doing thorough research on the subject first.
Eventually my hands got quite tired, so I added my boots and teeth to the mix. I pushed her around on the floor with my Docs for a while, but then the temptation of having her down there was too much for me to resist. She's very good with her hands as well, you see, and with her mouth...
I wanted to prolong things for a bit longer. Rather than letting myself get off against her tongue right away, I made her stop what she was doing and lavish the same care on my boots. That was a delicious torment for both of us, but we didn't have much tape left and I'm not made of stone, so I pulled her back to me. It's usually difficult for me to come in front of the cameras, but this time I totally forgot that they were there. Hooray for good chemistry (and a very talented girlfriend)!
Orgasm is one of my favorite ways to end a scene--especially if it's mine--so we let things draw to a close after this. You can tell by the matching grins on our faces that we were both very happy with how it went. In fact, we were impatient to get home so that we could play some more! :)