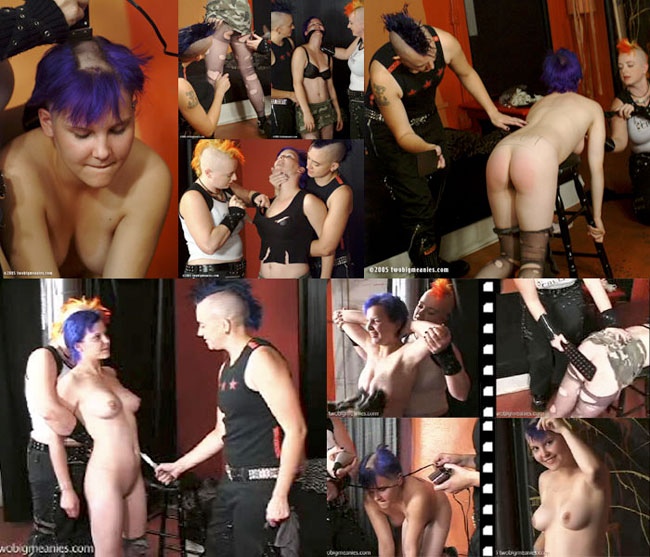 (Sorry, not available to purchase at the moment - this will eventually be on Lovingly Handmade Pornography.)
This is an older shoot (as evidenced by the mohawk I'm sporting in it - yes, it is possible to track the chronology of the shoots by my changing hairstyle *g*), but a really hot one. It was Maxx's and my first time co-topping on camera, and for some reason the only feature I've ever done with our adorable Emily. (I think Russell tends to monopolize her, go figure.)
Em had been angling for a shoot with Maxx and I, and she also was ready to have her hair rather drastically cut. She had long ago promised me first dibs on any head-shaving she might do, so we worked out a plan that combined all those elements...

We set the scene with Maxx and I making out in our "secret clubhouse". We were interrupted before things got too hot by a little mouse-sound at the door--one made by a spying Emily. We dragged her in at knifepoint, and then proceeded to initiate her into our gang. Every clubhouse needs a pet!
What followed was a hot process of making our little mouse over into something presentable. We began by altering her clothing, one bladecut and tear at a time. Once we got her down to a few tattered rags, we punished her for eavedropping and made sure that she was tough enough for us with extended paddling, breast torment, and general rough manhandling.
The final "initiation" was my favorite part. We had our new pet, now red-assed and decorated with the word 'slut' scrawled across her skin, pose for us on her hands and knees. With our knives (ouch!) and then with clippers, we shaved her head, leaving her with a floppy purple bihawk--much more suitable to her new status. ;)
The roleplay in this shoot was really fun and really immersive. By the end of it, all 3 of us felt like Emily had been "adopted" by Maxx and I. I often feel a sense of protective/possesive-ness at the close of scene when I'm topping, but this was my first strong experience of that during filming. I think it adds to the hotness of the overall feature.