Still working our way through the back catalog. :) We've only had one response to my 'any requests' post, which was somebody who wanted everything we've ever done with Rose. We'll get it all out eventually, but here's one for now. Any other requests for particular shoots from our back catalog that aren't up yet?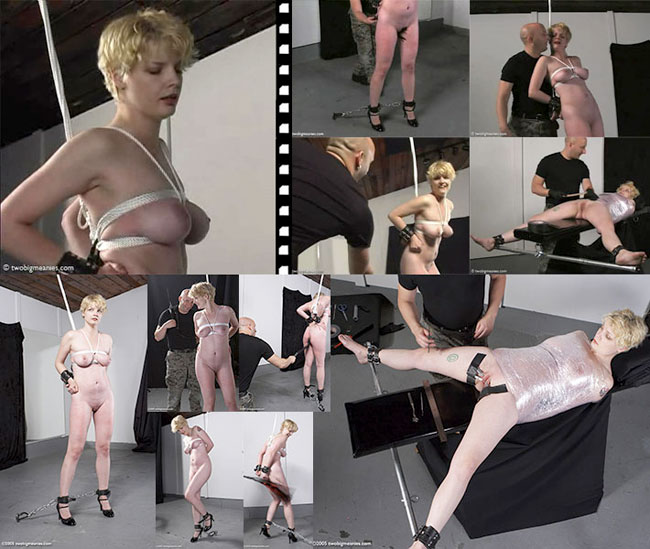 (Sorry, not available to purchase at the moment - this will eventually be on Lovingly Handmade Pornography.)
Edgy-but-also-playful scene with Rose Algren and me, two parts. First, chasing her around partly restrained, using mean floggers on whatever I could reach, then her mummified with her legs spread for some intense genital play.

When we started shooting at Lydia's studio, one of the things I was most excited about was the sockets for eyebolts set into the floor! I'd wanted to do this scene for quite a while, but just never had the setup for it. My plan was, attach one of Rose's ankles to a point on the floor, then chase her around. I also wanted to have her hands bound, to make sure some entertaining targets were available. I had a major safety concern, though- if she were to fall, she'd fall hard, on the concrete, and be unable to catch herself. She and I were talking over coffee a few days beforehand, planning the scene and trying to figure out a way to make that work safely, and she had an idea. Being pretty competent with rope, what if she were to do a suspension harness attached to the point in the ceiling immediately above the floor eyebolt? This way she had a little play, but even if her feet went one direction and her head the other, she'd just end up hanging from the ceiling. It worked wonderfully- safety concern dealt with, we were able to play nice and hard and not have to worry about it.
This worked great- she did a chest harness that covered as little as possible, and I spent the next hour or so chasing her around with Terrible Implements. She had some amount of play, so could turn and twist while I circled around her- it ended up being very kinetic and lots of fun for both of us. We played hard- afterwards Lauren and I were concerned that it was too intense, so we edited a bit differently than usual. Rather than breaking out witty banter, etc, into an outtakes clip we kept it all inline, so you can see how fast Rose bounces back and how much fun she was having. Definitely not light play- tears, etc.
After doing that for quite a while (edited down to about the first half hour of the video), we switched to part two of the scene. The first bit was super dynamic, with all the twisting different bits away from said Implements, for the second part we used pallet wrap (heavy-duty plasticwrap), a sawhorse-type thing, and a spreader bar to get her about as immobile and exposed as any bondage I've ever done. If I remember correctly, she'd said over coffee something like "I've never met genitorture I didn't like." ^-^