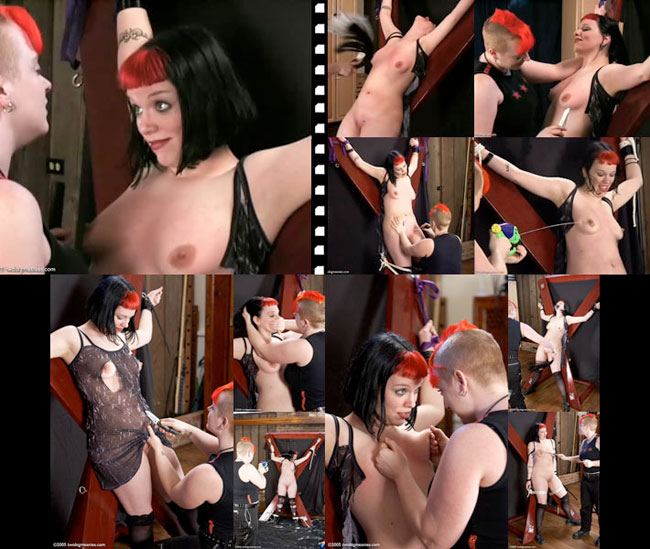 (Sorry, not available to purchase at the moment - this will eventually be on Lovingly Handmade Pornography.)
I love shooting with Dreina! She's smart, sassy, sexy, and a TOTAL wiseass. Her mouth is constantly writing checks that her ass can't cover, which is just about the way I like it. Not that I need an excuse to hurt her, really, but it's nice to feel justified. *g*
Also, she and I have been friends forever, so the chemistry is really good and the communication is really solid, which makes for some hot scenes. This particular one was our first time playing together on-camera, and one of my favorites overall.
We started off with me using flex cuffs to secure her to the rack so that she'd be nice and still while I cut her clothes into tiny shreds with my knife. Once she was exposed, I had a lot of fun flogging, slapping and caning her breasts!
She got VERY tender and sore in that area after a while, so I kindly alternated with some strokes of the horsehair and rubber whips to her cunt. I'm a helper.
I saved the most fun part for last--at least, the most fun for me.
I'm not exactly sure why cute, naked girls are even more cute when they're soaked and sputtering, but they are. It's one of the great mysteries of life. Hosing Dreina down with a huge squirtgun , aiming for her mouth when she made smart comments (so, like, several times a minute) was intensely gratifying. It also had the added bonus of making the last few minutes of impact sting even more.
By this time we were both pretty done in, so I toweled her off and took her out of bondage. There was some entertaining rough scrubbing in the process. :) All in all, it was a most satisfying afternoon's work!