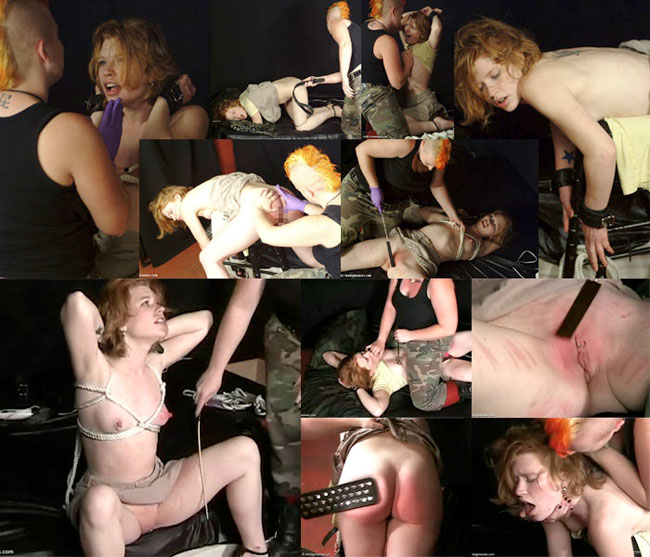 (Sorry, not available to purchase at the moment - this will eventually be on Lovingly Handmade Pornography.)
This was actually the second of the first 3 shoots that we did with Madison Young - and all in one day! It also was one of the first shoots that we did with a model that we didn't know off-camera. Madison is an amazing bottom with an incredible amount of stamina and pain-processing skills. Needless to say, we had a blast working with her!
Russell had perhaps a bit too much fun, and as a result, marks from the first scene are still quite visible in this one. *g* It adds verisimiltude to the storyline, though, which features Madison as the innocent-looking little sister with a secret sadomasochistic lifestyle...

The poor bored girl was all alone and just looking for a simple way to pass the afternoon - until I walked in and caught her in the middle of her naughty self-pleasure. It seemed that she was too embarrassed to stop me when I snooped around her room and "discovered" her secret stash of SM toys.
Whatever is a concerned big sis to do when she finds out the sort of debauchery her kid sister has been getting up to? Why, teach her a lesson, of course--by giving her a taste of each implement in her extensive stash!
We got started with some simple bondage and breast torture. (It's worth mentioning here that Russell had already worked her nipples over very thoroughly in the previous shoot, so she was nice and sore before we even got started!) Afterwards, I put her on her hands and knees with that adorable little ass in the air, and worked it over with a belt and some other nasty toys.
She began to get squirmy after all of this attention, so I put her into a simple (really simple, I am so not a rope top) chest harness and did mean things to her inner thighs and breasts with a thin little whippy cane. Having her spread her legs open wide for the cane lured me to her pretty cunt, and we moved on to a fun genitorture session.
The end of the scene was the hottest part, in my opinion. I bent Madison over a high wooden stool, tying her wrists to it so that she couldn't wriggle away. With gloved hands, I scooped some extra-hot sports rub out of the container and pushed it slowly up inside her asshole. Once it began to do its work, I picked up a paddle and then a cane to make sure that the outside of her ass felt like it was on fire, too!
I may be a big meanie--it is part of the job description--but I wasn't cruel enough not to let her finish what she'd started before I walked in. I figured that she deserved a reward for suffering so prettily though all that I did to her. I left her tied over the stool while I pressed the vibrator against her clit, and watched while she writhed her way to an incredibly sexy orgasm. (Which produced some extremely hot stills, of you're someone who kinks on faces in pain and pleasure like I do.)
I'd love to have Madison back sometime. The next time she came to town, I was camping in the desert, and Russell got to keep her all to himself. (From whence came Madison in Trouble, Parts 1 and 2.) He'll probably want to arm-wrestle me for "dibs" the next time she comes back, but if this shoot taught me anything, it's not to let him go first!